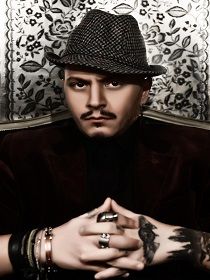 MK by Marios
[Designer]
MK by Marios
[Profile]
Marios Karavasilis was born in Athens. He graduated from High Drama School "G.Theodosiadis ''.He founded the theatrical company "Art Code" working  as actor and costume maker.
Additionally, he graduated from'' Veloudakis''Fashion School and he trained in fashion house "Celebrity Skin". He creates his first  fashion collection -METHEXIS-for the season A/W 15-16 and he is awarded  the "Best Trendsetter Designer "at Athens Xclusive Designer-AXDW . As a result, he presented his extended collection -METHEXIS the reborn- at Serbia Fashion Week-SFW under the auspices of AXDW. In 19th edition of Athens Xclusive Designer Week-AXDW he presented  the -DYSMORPHIA- collection for the season  Α/W 16-17. In July of 16' present his collection in Romania at Feeric Fashion Week. Also in September of the same year he is invited by the production of MADMOOD MILANO to present a conceptual garment within the period of Milan Fashion Week.
Eventually, Marios created the brand "MK by MARIOS"  in November 2014 to express his creativity as a fashion designer and to construct with his searching look new creations relevant to fashion, theater and Arts.