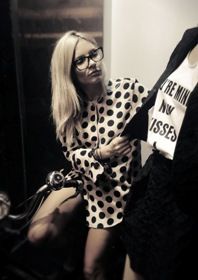 Blondie.e
[Designer]
Blondie.e
[Profile]
Eleftheria Kardami, is an innovating fashion designer, born and raised in Piraeus. She studied Fashion design at Zer-Fam, met and studied the history of fashion, as well as its importance and use within the years and eras.
Her big Love and inspiration is her Bulldog...it became the Trademark of the clothes she created and with which, she firstly appeared at Athens Exclusive. Blodie.e was born...
Her clothes are unique, in minimal lines, perfect fit and of impressing materials.
Emphasis is given to cool fabrics, laces- which she consider extremely feminine, organza and other see-through materials, which trigger fantasy and balance among desire and elegance...
This season, she continues her presence at Athens Xclusive Designers Week with the faith and vision, that she will leave her stigma in the world of fashion...