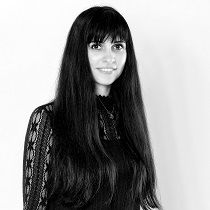 Avgousta Theodoulou
[Designer]
Avgousta Theodoulou
[Profile]
Avgousta Theodoulou was born in Cyprus. She has lived in Greece where she studied Computer Science (BSc & MSc) and then worked some years as an Informatics tutor. After exploring means and techniques for handmade creation, in 2013 she moved to Paris to pursue her dream, and in 2016 she got her BA in Fashion Design from IFA Paris.
Her work has been selected to appear in catwalks in Paris, Washington DC, and China. In 2016 she was a finalist and received the Bronze award in an International Fashion Design Contest of China (Keqiao, Shangai), where the 30 finalists stood out from more than 2000 new designers' applications.
Avgousta transforms the fabrics that she uses, combining handmade techniques (macrame, crochet, etc.). For Avgousta, a garment should be a form of art and mean for expression.
Currently, she is  working on the launch of her self-labelled fashion brand in Paris.