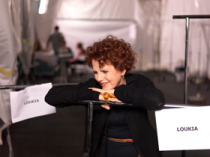 Atelier Loukia
[Designer]
Atelier Loukia
[Profile]
Loukia was born in Samos. She studied interior design but the experiments quickly led to the natural vocation: the design of the garment. She did the first patchwork at the age of 9!
For forty years she creating clothes that do not fall exclusively to the strict "rules" of couture, but combine it with a free imaginative way influences all the arts. Source of her inspiration is the theater, poetry, cinema, music, painting.
Loukia is the only designer who devote entire collections in film Fellini (E la nave va), to Billie Holiday, to Bjork and Klimt.
The theatricality of clothing led her costume in the theater early, with hub starting its cooperation with Melina Merkouri in "Sweet Bird of Youth," directed by Jules Dassin. Followed collaborations with Theater Katia Dandoulaki and 'Attis' International Greek director Theodoros Terzopoulos in works of Tennessee Williams, Harold Pinter, Heiner Müller, Molière.
She has twice been honored with the costume award at the institution of theater awards "Athinorama".
Loukia has collaborated with the Black Theatre of Prague and the artists were playing next to clothes.
The undisputed grand dame of Greek fashion has made shows from Tokyo to Tel Aviv.