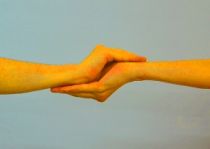 Asel & Eleonora
[Designer]
Asel & Eleonora
[Profile]
Designers Asel & Eleonora Beishenova  start their carrier in fashion in 2007 with brand "Commune" based on concept of huge city and deep characteristics of grange and industrial punk. This line was presented in 8th and 9th fashion weeks of AXDW.
At the beginning of 2011 created one more line " ASELELEONORA" with vision to combine and mirror two their personal evidence - the science experience in mathematics and great love for modern art. The designers desired to connect fundamental research with artistic culture of basic forms and always ask to investigate whole types of natural fabrics with an eye to their practical and esthetic.
This time the collection for SS13 characterize by minimal lines, curves and colors. The inspiration came from last art-exhibition of Greek Artist Costas Tsoclis in Spinaloga and contemporary sculpture and architecture.