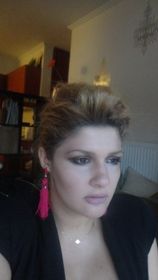 Argyrou Polina
[Designer]
Argyrou Polina
[Profile]
Born in Limassol of Cyprus. She studied fashion design and production in Patra where she completed hers second bachelor. She continued her studies in Athens by the side of the designer Aslanis for one year.
In October 2011, she organized Aslanis' fashion show at the fashion week. In October 2012, she did her own show in Athens Xclusive Designers Week with the name "margonetes".
She became independent when she made her first show on August 2012. The collection has strict lines which at the same time flatters the female body.
During her studies in Thessaloniki has participated several times as dresser at the backstage of MED fashion show and NASSOS' bridal collection.
Her dream is to become a successful designer and store owner with collections for all styles and ages.